The Newsroom. Season 1 Report Card.
The highly anticipated first season of Aaron Sorkin's The Newsroom ended on a surprisingly optimistic note. Will isn't fired by Leona or murdered by a stalker while Jim and Maggie give us a kiss. Charlie lives to see another year and we're all left daydreaming about Neal's substantial role in next season's coverage of the 2012 presidential election. Oh, just me?
Will.
B Will had a long way to climb from the asshole we met in the first episode. He never quite nails the I'm-a-nice-guy shtick Mac and Charlie shove down our throats, but he does learn Maggie's name and flexes an emotional bone or two in therapy.
Will is at his best in front of the News Night cameras, composed and driven by subtle cynicism. And yet to say that Will is a good representation of Republicans in media is like saying Sorkin is a good representation of feminism in Hollywood. No Republican would speak to other Republicans with such audacity (the same rule applies for Democrats). Casting a self-proclaimed right-winger in a show with a pro-Obama subtext is a transparent Sorkin move but if I'm being honest, I don't hate it. It fits well with the idealistic tone of the show—this "elite" journalistic outlet News Night strives to be that perfectly mirrors the audiences optimism. It's why I keep coming back for more…
Mac.
B Poorly-developed female #1: Mackenzie Machale entered our lives with gusto – enough patriotism seeped from her boney arms to neutralize her British accent.
Unparalleled pep and optimism poured out of this EP with the promise of News Night 2.0 –ex-boyfriend(s) and tightass network execs be damned! Unfortunately, Mac's kryptonite happens to be those pesky ex-boyfriends and stingy networks execs because she implodes. I'm so angry at the deterioration of Mac's psyche I could just spit — in Sorkin's face for his misuse of Emily Mortimer; in the face of the HR department because rage blackouts are not professional. Mac stepped up for the hard stuff, the kind of news events our kids will read about in textbooks. But she's also a sick archetypal woman who struggles to balance her personal and professional life. Considering her vacant personal life, that's supremely depressing.
Maggie.
C+ Poorly-developed female #2: Maggie should have been this season's Rudy. Finally taken off the bench and put in the game, young Maggie would struggle with the new responsibility but ultimately, it would be her determination that solidified her place at the News Night producer's table. Instead, she stumbles and stutters her way through meetings, suffers from panic attacks, mixes business with pleasure, and is arguably the worst roommate/BFF ever. Did Sorkin see Scott Pilgrim or Midnight in Paris? Does he recognize the talent he is wasting on this feeble character? What I'm hoping to see in the next season is a tougher Maggie, less Carrie and more Samantha; a sexually liberated and fearless journalist who, BONUS, dumps both Don andJim for a man with equal parts charm and good looks…Mr. Neal Sampat.
Jim.
B-
Remember when there was nothing more charming than our pseudo-socially impaired senior producer, the yin to Mac's yang? The man who took a bullet in the ass for journalism, who threw adorably sheepish glances at Maggie without expectation, only subtle longing and boyish eyebrow furrows. Ah, those were the days. For such a smart guy, Jim sure acted a fool for the second half of the season. Dating Lisa was such an obvious and slimy this-will-make-her-jealous move that he missed his chance to be the decent guy. You know the guy, the one willing to wait because he's waiting for his wife, ahem, the real Jim, JIM HALPERT. Jim Tiberius Harper is not as patient. Jim Harper is more of a Mrs. Right Now guy. Pity. I'll give him the benefit of the doubt and see what his move is at the next season's opener, but I'm not holding my breath.
Sloan.
B+ Poorly developed female #3: Sloan has the most chutzpah of any of the women on The Newsroom. When she isn't removing her own foot from her mouth, Sloan gets five minutes of on-air time to rattle on about the economy. Seriously. Sloan kind of has it made if you think about it. She is smart andhot, but she doesn't suffer from the typical hot girl syndrome – none of the women in the office mistrust her. In fact, Mac and Don actively seek the girl out for relationship advice. Of course, she sucks at giving it. I fully support a Doan (Slon? Keebbith?) relationship arc as long as it focuses on rehabilitating Sloan's emotionally stunted ways to better her role as an economist. Or better yet, a subplot involving her torrid affair with a Diplomat, the details of which remain salaciously foggy and unconfirmed as she keeps it professional at work. Let's give this gal more than the one dimension. WHO IS WITH ME?
Don.
B+ Confession time: Don Keefer is kind of a sweetheart. Bear with me. He starts off kind of smarmy, an unfriendly reminder of that guy you once dated with commitment issues. He gets a whiff of life sans Maggie and shifts gears entirely. Behind closed doors (that's right, CLOSED doors as opposed to wide, open, newsroom floors), Don is vulnerable and suddenly completely relatable. #TeamDon.
Charlie.
B Despite what Will would like you to think, Charlie is the one actually in charge of the fate of News Night. Did you hear that Charlie? YOU are in charge, so when your newly hired and erratic EP becomes as pompously idealistic as your pig-headed anchor, threatening your very livelihood (not to mention an entire staff's livelihood), SHUT IT DOWN. Leona Lansing wants your head on a stick a la Game of Thrones and you hand the reigns over to the guy who yelled at an undergrad. I think next season's big bad should be Charlie himself; he'd make an interesting foil, a shark in the water. I imagine the bourbon-fueled strategy would be deliciously diabolical.
Neal.
A- Oh my stars, do you not just adore this techy? Neal's lovable persistence first sparks from an on-the-ground source in Libya, then is, somewhat, misplaced in his weird obsession with Big Foot, then redirects to throwing mean and sexist things about Sloan into cyberspace, for the good of the cause, of course. Fine, all for the sake of journalism. But if you think about it, Neal is the most reliable character on The Newsroom. He in no way gets enough screen time but if my petition has any legs, that will change come next season.
Lisa.
C Ugh, the worst. She bugs the crap out of me with her flip floppy role in the Jim-Maggie saga. We've seen Lisa acknowledge the very real feelings between the coworkers and yet she continues to put herself smack dab in the middle of it all. I'll say it again, UGH. I don't know what I was expecting from the girl who underwhelmed Dwight Shrute in bed.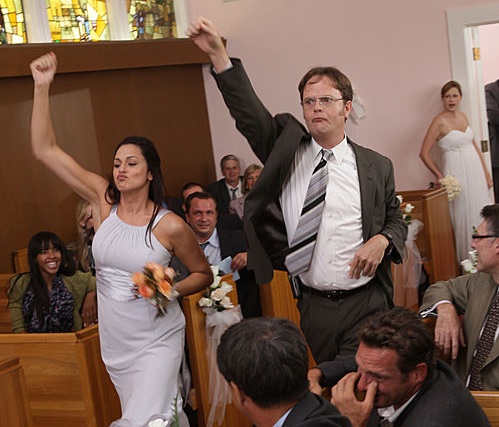 Season One 
B- I stuck by The Newsroom—I trusted its quirky turns, questionable antics, and uneven character development. Season one reeled us in with its addictive love-to-hate, hate-to-love aftertaste. But we demand more.