Revolution. Pilot.
I know that learning isn't as cool as bow hunting, or whatever, but this should bother you.
A plane falls from the sky. Survivors band together to make it through a new world and uncover the mysterious forces that led them there in this new show from J.J. Abrams. No, this isn't Lost– there are way fewer polar bears. But we do have a catastrophic event, mysterious artifacts, and a plucky heroine who knows right from wrong. Can parallel universes, time travel, and a mystery box be far behind? As Revolution opens, an unexplained phenomenon kills the world's power. Electricity and batteries – gone. Fifteen years later, the US has divided into republics and citizens live under the thumb of roving militias. When the Monroe militia kills Charlie's father, Ben – who may have known a bit too much about the blackout – and captures her sniveling brother Danny, she sets off to enlist her uncle's help in getting the twit back. Along for the trek: her father's rather badass new girlfriend, and a neighbor who may unwittingly hold the key to turning the lights back on. As a lover of futuristic sci-fi and post-apocalyptic fiction, whose childhood dream was to visit Colonial Williamsburg, this show is right up in my water-powered wheelhouse. While the pilot's plot was driven a bit too much by coincidence and the characters are a touch black-and-white, setting a show in post-computer America is a really cool idea. The blackout sequence, as a row of headlights flicker out along a jammed highway and planes crash in the distance, is genuinely chilling. Overall, a solid start.
Charlie
C Oh, Charlie. This sheltered naif with impossibly clean hair is our hero, so I guess I should get on board, but man, is she dumb. Leading her asthmatic brother into an allergen-filled abandoned van, broadcasting her semi-secret mission to Chicago to the first young man with spherical biceps she meets, getting mouthy with her dad's girlfriend over some poisoned whiskey that totally saved their collective ass, letting her lip quiver when she doesn't find Uncle Miles in her first 15 seconds of searching, using the reasoning, "because we're family"... were she not the biggest one on the subway posters, I would not be betting on Charlie's survival. Here's hoping she wises up.
Ben & Rachel
B Neither of Charlie's parents make it to the show's second episode, so we're going to have to dock some points from the "still alive?" category. Post blackout, Ben becomes the leader of a rather idyllic-looking farming community, senses his imminent demise, entrusts a possible key to the world's power supply to the guy drinking from a flask at breakfast, and gets shot. Not everyone can handle kegs and eggs. However, I give the couple points for establishing a not-too-horrible looking village (the plumbing situation is mercifully left unexplained), and for letting Charlie gorge herself on ice cream after the power dies. That's parenting.
Danny
D Charlie's asthmatic little brother unscrews a bolt with his bare hands to escape the militia, only to squander 100% of that bad-assery by wandering, Dorothy and Toto-like, into a Pollen Field of Doom. Saved from the Spores of Silence by Grace and her dead son's inhaler, he's recaptured almost immediately. Oh, and that whole show of bravado back at the village got his dad and half their neighbors killed. Danny stinks.
Miles
A Uncle Miles just doesn't give a damn – or that's what he'd like you to think. But should a real Powerpocalypse sweep America, I want a killing machine like him on my side. Forget whether he knows how to get the lights back on – shouldn't the militia want him for his ability to channel Uma Thurman vs. the Crazy 88?
Capt. Neville
B Points to wardrobe for adorning the Captain in a Matrix-style duster coat and tiny Morpheus glasses, as if the fact that he's played by Gus Fring isn't enough of a clue that he's evil. But is he? I get the sense that this no-nonsense insurance adjustor-turned militia captain is only doing his job. He tries to play nice before he gets scary. He misses his wife! I like him.
Grace
A+ Look at Grace, holding out on us. We think she's just a softie with inhalers up her sleeve and a really bad poker face, and then it turns out she has a functioning computer. As in, runs. On power. Go Grace!
Nate
B Why hello, you bow-hunting, double-crossing, super-hot militiaman. Naive as it was, I have to give Charlie a pass for leading you and your deltoids straight to Miles, even though you literally have a big "M-is-for-I'm-with-the-Monroe-Militia" branded onto your wrist. What kind of planning is that on part of the militia organizers? Do they tell their undercover guys to just always wear long sleeves? Have they been to Chicago in the summer? Anyway, despite his bad-guy affiliation, Nate saved Charlie from certain death twice, so I imagine we'll see him again. What I hope we don't see? His shirt. Hey oh!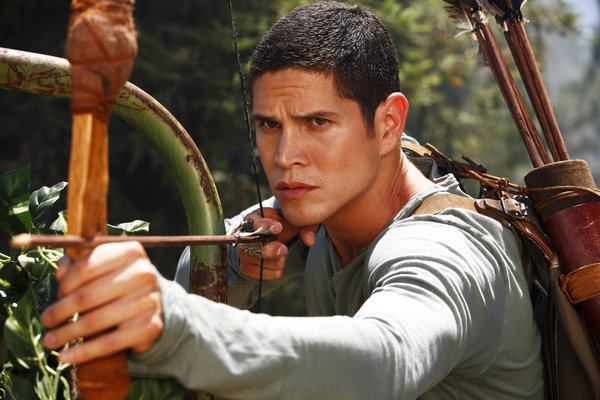 "Pilot" 
B+ As much as there is to complain about – Tracy Spiridakos's stilted, juvenile portrayal of Charlie, the expectation that anyone can actually defeat 8-12 armed soldiers with a samurai sword, everyone's apparent access to sunscreen and skin-matched foundation – the pilot also set up a complex situation and built a full picture of our post-power world with impressive efficiency. Should America go dark, I buy that we'd regress to colonial times, minus the funny hats. The sprinkle of mystery makes me want to tune in next week. What's the deal with that apparently electrified amulet? How many are there? Where did General Monroe get ice? Here's hoping the show sticks around long enough for us to find out.
Extra Credit
Vine-covered Chicago - from an overgrown O'Hare to the flooded river - is stunning. Revolution has its Hunger Games aesthetic down cold.
There's a Lou Malnati's sign in Miles's bar. Chicagoans would indeed keep the legend of Lou's deep-dish pizza alive.
Demerits
If Ben knew the blackout was coming, why did he wait until the day of to get some extra supplies? Where's the bunker of bottled water and SPAM?
The fight scenes featured not one, but four "my menacer just got shot from behind by someone whom I thought had abandoned me!" moments. I think a one-hour show should top out at two.